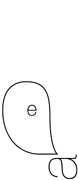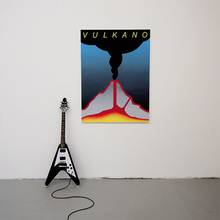 Angela Fette & Christian Jendreiko
Vision Vulkano
LP/DL
AE010
Dec 2011
Order

"Vision Vulkano" documents two performances by the Düsseldorf-based artists Angela Fette and Christian Jendreiko, made during their collaborative show at Kunstverein Schwerte "Orakel Konkret" in spring 2011.
The A-side contains "Orakel Konkret", a live recording of an action commissioned for the opening. Christian Jendreiko plays a vintage Vibraphone and Angela Fette performs as a blindfolded oracle. While a chatty premiere audience is slowly settling down and beginning to listen, Jendreiko starts, using his trademark non-repetitive modal playing method, as Fette turns in circles, predicting obvious, tiny, very concrete future events that will happen in this very room.
The B-side is a playful dialogue between the artists, playing with the terminology of will and imagination in their positive and negative variations. "Yes, I am able to envision this". "No, I am not able to envision this". And so on, deliberately changing perspectives and moods. The 15-minute-long piece is reminiscent of Beuys' classic/infamous performance piece, "Jaa, Jaa. Nee, Nee." (and/or Kippenberger's later ironic Techno versions of the same.) The very same recording of "Die Welt als Wille und Vorstellung" was used as a backing track for a guitar performance by Fette and Jendreiko during the finissage of the exhibition.
The front cover and labels present views of the exhibition. "Vulkano" is a painting by Fette from her ongoing series based on the concepts of natural disasters, accompanied by a Jendreiko installation – a classic Flying V electric guitar placed atop bones, ancient symbols for aleatoric oracles. The inner sleeve reproduces Jendreikos action text used for "Orakel Konkret" as well as a transcription of Fette's oracular predictions.
Painter and poet Angela Fette is known for her powerful, sharp paintings, installations, and mask performances. Recently, Christian Jendreiko's large-scale actions have been realized in a number of different cities and countries, involving the collaboration of large collectives over several hours. For "Vision Vulkano" he returns to a singular, individual form of his signature playing style.
Text by Volker Zander
Released in cooperation with Kunstverein Schwerte, Schwerte, Germany.