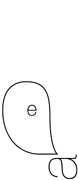 30.09.10 12:31 Age: 13 yrs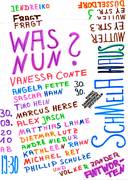 Christian Jendreiko - "Was Nun?" Action @ Düsseldorf Schmela Haus, Sept 30, 8pm
CHRISTIAN JENDREIKO FRAGT: WAS NUN? VANESSA CONTE, ANGELA FETTE, SASCHA HAHN, TIMO HEIN, MARCUS HERSE, ALEX JASCH, MATTHIAS LAHME, DIETMAR LUTZ, ANDRÉ NIEBUR, KATHLEEN RAHN, MICHAEL REY, PHILLIP SCHULZE & VOLKER ZANDER ANTWORTEN
CHRISTIAN JENDREIKO ASKS: WHAT NOW?
VANESSA CONTE, ANGELA FETTE, SASCHA HAHN, TIMO HEIN, MARCUS HERSE, ALEX JASCH, MATTHIAS LAHME, DIETMAR LUTZ, ANDRÉ NIEBUR, KATHLEEN RAHN, MICHAEL REY, PHILLIP SCHULZE & VOLKER ZANDER ANSWER
Action by Christian Jendreiko
The action "Was Nun? What Now?" is a new work by Christian Jendreiko especially written for the Schmela Haus on the occasion of the 2010 Joseph Beuys retrospective. The piece consists of a dense two hour long set of question formulas, sent out and played with among Jendreiko and a large group of befriended visual and performance artists, musicians and curators, using musical instruments and visual artworks, while the audience is invited to walk around the actors and the artworks or sit at the venues bar listen and relax.
"What Now?" derives its title in part from the classic Neo-Confucian mantic theories of Wang Yangming on knowledge and action as union. Jendreikos action is a living acoustic and visual environment forming - not unlike the ways that composer Franz Joseph Haydn's envisioned his string quartets: a conference where the actors exchange ideas in an independent and free state of conversation.
With "Was Nun?" the Düsseldorf based artist considers the present tasks of society, thus introducing the Schmela Haus, an outstanding urban structure with paralleled vertical transparency built by the late Dutch structuralist architect Aldo van Eyck, as a possible structure for communityl and discourse. As an alternative gesture to the limiting dualities of top-down or bottom-up staged panels, where specialists or majority hold the answers, Christian Jendreiko plants the question and the movements it causes itself into the core of a conversation-friendly environment to make the individuality of innate knowledge and action transparent.
"What Now?" is the first in a series of artist talks titled "Inspired by Beuys" in addition to the retrospective exhibition "Joseph Beuys. Parallelprozesse." at Kunstsammlung Nordrhein Westfalen in Düsseldorf. Jendreikos actions have been performed since 2007 internationally at various art spaces, museums and music festivals.
Artist talks at the Schmela Haus will be held regularly on Thursdays throughout the Beuys exhibition as part of the Düsseldorf Quadriennale 2010. Forthcoming talks include presentations by Ulrike Rosenbach, Bernhard Blume, Klaus Staeck, Jonathan Meese, and Jörg Herold.<del> </del>
September 30 @ Schmela Haus, Mutter-Ey-Strasse 3, Düsseldorf, Germany – 7:30 - 9:30pm
with
Vanessa Conte – painting
Angela Fette – voice, painting
Sascha Hahn – guitar, print
Timo Hein – bass
Marcus Herse - print
Alex Jasch – congas, sculptures
Christian Jendreiko – guitar
Kathleen Rahn – tutorial
Matthias Lahme – painting
Dietmar Lutz – paintings
André Niebur – paintings, sculptur
Michael Rey – painting
Phillip Schulze – laptop
Volker Zander – guitar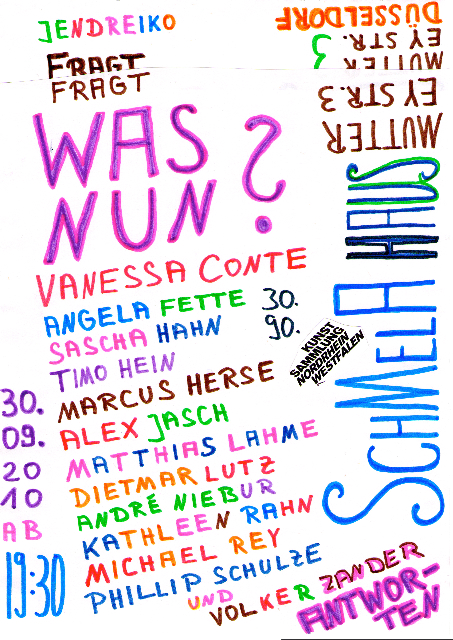 <- Back to: